After a month in Vancouver, I rode the train to Edmonton, bussed to Calgary, hitch-hiked to BANFF, and then hit the rails again to Toronto & Ottawa. I'll be here in Ottawa for a week, then I take the rails up to Montreal, Qubec, and Halifax.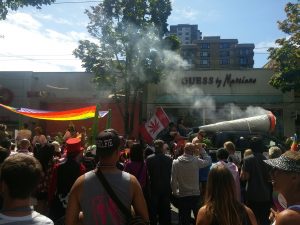 Vancouver & BANFF have been the highlight of my Canadian journey so-far.
If you can manage to find free rent in Vancouver (it's legal to erect an overnight tent on public property in all of British Colombia, per BC Supreme Court), you will find it to be a very cheap place to travel. The city's cycling, beaches, people, discount fruit, free events, and near-by hiking are great. For a $30 bus, you can take touring bike & all your gear up to Whistler, and ride the 120km Sea-to-Summit highway in reverse, descending the 600m from mountains to the sea, which is a beautiful & easy 2-day ride--but don't forget the bear spray.