I've been living with my friend in the SF Bay Area for the past month. I'm writing this from a cozy, finished room in the corner of a large, leaky warehouse hosting a datacenter and massive library of books in Richmond, CA. The building is owned by a nonprofit library that digitizes books and makes them available online, and my friend has become something of its caretaker while in school.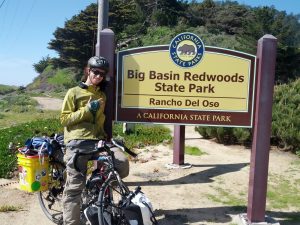 Last weekend, on my friend's Spring Break, I went on my first bicycle tour in over a year. From the Bay Area, we took a train down to San Luis Obispo, and started riding ~300 miles along highway 1, through Big Sur, back to San Francisco. It was a trying journey--both physically & emotionally, but also really really really beautiful. And I needed the Vitamin D. But I could have been spared the Poison Oak and sunburn...
The SF Bay Area is always a great place to be. It was great to spend time with Friends & Family I hadn't seen since I moved from Berkeley to travel the world over a year ago. I'd like to stay longer, but there's still so much of the world to see. The weather is getting warmer, and Canada is calling!
Saturday morning I plan to wake up at the crack of dawn, load up my bicycle, and ride ~80 miles to Sacramento before Sunday evening. I'll spend a week staying with a new friend in Sacramento, then I'll be going up to Eugene, where I'll be staying with a friend at the Lost Valley Eco Village.