We awoke to the sound of a marmot under our mini-van shelter atop Hatcher Pass. It was my last weekend in Alaska, and S wanted to take me outside the Anchorage bowl--where I've been living the past month. We ate breakfast as we gazed upon the snow-capped mountains in the distance, then grabbed our packs and climbed up to the ridgeline, stopping to appreciate the fine view of Mount Denali--the highest peak in North America.
I hosted S as a couchsurfer in my temporary "apartment" in Anchorage, but we initially met in an online form; we were both searching for a travel companion to split the cost on a ship from Anchorage, AK to Vancouver, BC.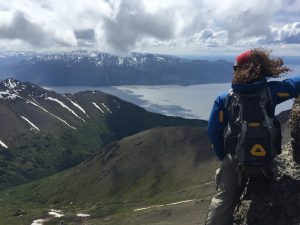 3 months ago, S left her office job in Zürich, flew to Vancouver, and bought a mini-van named Bourbon. Living in Bourbon, she drove through BC, Alberta, Saskatchewan, the Yukon, and west into Alaska. I hosted her a few times when she passed south through Anchorage down to Homer, then again West to Valdez. Our last weekend in Alaska, we took one last trip outside Anchorage before she sold Bourbon
After climbing down from the ridgeline above Hatcher's Pass, we drove through the valley down a long gravel road to the Reed Lakes trailhead. 4 miles and much climbing later, we arrived at the most pristine, glacier-fed lake I've ever seen. A local told us it's the best lake in Alaska, and that the glacier that fed this lake (just over the ridgleine) was called "bomber glacier", as a crashlanded (world war 2?) bomber plane could be found atop the glacier. If we had more time, gear, and food, it would make a glorious multi-day weekend hike to Bomber Glacier--perhaps for my next visit to Alaska.