I just spent 2 weeks living in an intentional community in the forest ~20 miles outside Eugene, OR. This is my first time in Oregon. My-oh-my, is it beautiful! Just a bit cold & wet for my tastes (welcome to the Pacific Northwest!). I give massive cred to the crusties living on the streets here. How do they ever dry their clothes?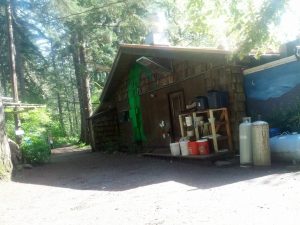 I spent a wonderful week with a new friend in Sacramento. I was surprised how much I enjoyed Sacramento. The weather was great, the dumpsters were full of gifts (two unopened 4-packs of Pilsner Urquell?!?), and the streets were easy to navigate by bicycle. Coworking offices were pretty ridiculous ($192/day are you mad?!?), but fortunately I was able to work from home.
I was just finishing dinner, planning to see a friend play a folk punk show in Sac when my friend in Eugene asked what time I'd arrive tomorrow. Looks like my calendar was off-by-one day; my train leaves in a few hours. Whoops! I made a call to a friend, packed my stuff, rode-off to amtrak, and quickly boxed my bicycle. When I awoke on the train the next morning, I was crossing a gorgeous lake via causeway with snow-capped mountains in the distance. Everything was green, and--as we climbed in elevation through the cascades--there was snow on the ground.