A trip to India is not complete without a visit to the Golden Temple in Amritsar, Punjab.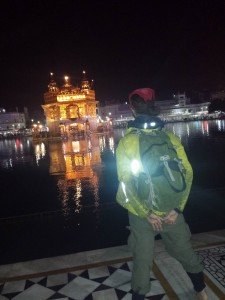 This mecca for the Sikh faith is an ideal representation of compassion, hospitality, and socialism. Though it's comparing apples & oranges, I found the Golden Temple to be somewhere between 10-100x a better visit than the Taj Mahal.
This immaculate white-marble square surrounds a massive, sacred, holy-water-filled tank. The pilgrims come here to bathe in the holy water, in which fish swim happily (the Sikh are pure vegetarians). At the center of the tank is a beautiful Golden Temple. All are welcome to visit the Golden Temple, and the square is open on 4 sides 24/7. The friendly spear-and-sword-armed guards only require you to follow a few simple, respectful rules: don't bring socks or footwear in the square & cover your head.
You can also sleep for free in the complex, in Air-Conditioned quarters. They serve free food & tea constantly throughout the day & night (Langar). And there's a free museum to learn about the history and theology of Sikhism.
I spent 2 glorious days in Amritsar, most of which was spent reading in the square, admiring the Golden Temple and the utopian atmosphere.
I also went to Jallianwala Bagh, the site of the 1919 massacre where British troops--without warning--fired upon men, women, and children; killing over a thousand. I was shocked to find many Indians taking smiling selfies in front of the still-standing bullet-hole-filled walls. For the first time in my 3-month stay in India, I denied requests to selfies.
And I briefly visited the Wagah Pakistani border and left with an intense desire to cross to bear witness to the culture of the more tranquil Pakistanis.
My last night in Amritsar, I caught the midnight train back to Delhi for a cheap flight back to Bangalore.