I began my ascent into the Himalayan mountains via a bus from Delhi. My stop was the last stop, Manali. The mountains were beautiful, and I was completely taken by surprise when I found myself on a Bollywood set, paid 1500 rupees to be an extra in a film.
A French couple departed the bus with me, so we shared a rick shaw to Old Manali, where we stayed in a cheap ~300 rupee/night guest house. It was November--Manali's off-season, yet there was already a half-dozen other travelers from France, Germany, and Korea staying at the guest house.
I immediately recognized Himalayan Blackberry and I could smell ganja in the air--two plants that reminded me of California.
Soon after I arrived, I started walking North along the river, basking in the peaceful sunlight in the valley surrounded by snow-capped mountains. I immediately recognized Himalayan Blackberry and I could smell ganja in the air--two plants that reminded me of California.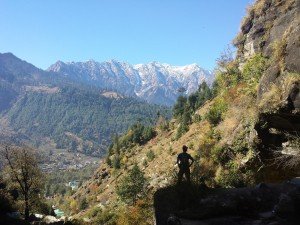 I continued walking along the deserted mountain road above the river for a few hours, passed through a village where I saw smoking men relaxing in the morning and women washing clothes from a stream running down to the river. I turned, walked back to my guest house, ate lunch, and then continued in the opposite direction towards the hustling & bustling New Manali. It was an overcrowded tourist trap full of shops, restaurants, and overcharging rickshaws--a stark contrast to my peaceful morning walk. Though it was off-season, I met local that offered to guide me on a day-trek for much cheaper than the "adventure" companies charge. We had chai, agreed on a price, and a time/location to meet early the next morning.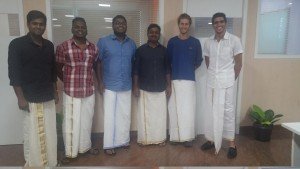 On my walk back up to my guest house, a man behind a gated entrance with a radio earpeace stopped me. He said they're shooting a Bollywood movie, they need a foreigner to play as an extra, and they'd pay me 1,500 rupees, and feed me for my time (for reference, 1500 rupees would pay for my lodging at my guest house for the next 5 nights).
What he didn't say was the role I'd be playing--which apparently was the token "American stoner". When I arrived that evening, I was put on their set laying on a mattress smoking hookah. This scene was less than 30 seconds of footage, but it took nearly an hour of prep & shooting--during which I was talking to a gorgeous woman from Manali and smoking hookah, while sitting around a fake fire periodically fueled with gasoline. Folks from "setting" were running around ensuring everyone had a cigarette to smoke. When they finally began shooting, they shouted "action!" then "smoooooke!!." The camera panned, smoke filled the air, then "cut!"
They handed me a cheap bong and told me to smoke it when the camera rolls
I went to grab a somosa & black tea, then--before I knew it--they called my name again. This time I was put on a mattress directly in front of the camera, and they adjusted my position so my face was about one foot away from the camera--just on the right side of the frame. They handed me a cheap bong and told me to smoke it when the camera rolls. Apparently this was the scene where the main character (smoking behind me with a gold-plated, cannabis-leaf necklace) gets arrested by the police. And I was the hippy stoner from America in the foreground smoking a bong. Fair enough.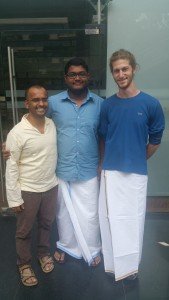 But my brief stint as an overnight film extra star was the exception to my experience in Manali.
It was mid-November, so the common treks to Himalayan Passes were snowed-in for the season. I heard a day trip was possible to Lama Duk, so I went to the temple at the trailhead in search for a guide. I had tea with a local man who pointed me to a neighbor who agreed to guide me the following morning for 1000 rupees. I bought some bread, bananas, dry fruit, and walked back to my guest house where I picked-up 2 French travelers to join me for the trek.
We left for our guide's home at 07:30 before the sun had risen above the mountains in the East. For the next 5 hours, we climbed from 2,000m over 7km to 4,000m. Our 55-year-old guide, twice my age, had little trouble walking up the steep incline.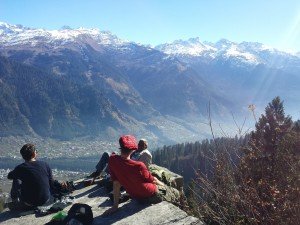 Half-way to the top, we stopped at a patch where the Ganja grows wild so our guide could roll 2 joints (he informed me that he already smoked 2 joints earlier, when he just woke up). Here there was a small tarp-tent where the shepherds lived for the season. Later, on our way down, we met these shepherds, and I learned that--even a shepherd living under a tarp on the side of a mountain in the Himalayas have smart phones--incredible.
As we ascended, the surrounding view of snow-capped Himalayan mountains was incredible to behold. When we reached the top, we found a pool of water, gathered dry wood, made a fire, made Chai, and smoked several joints before descending--where our guide invited us to his home for a few more joints. This man of 55-years smoked 2 joints in the morning, 2 joints at night, and probably a few dozen in-between. He'd been making Chariss (the local's name for their hash) since the hippies came to Manali in the 1970s. At that time, 10g of Chariss was 6 rupees. Now, 40 years later, the same amount cost 2,000 or 3,000 rupees. In Goa, it sells for 3x this price. Our guide said he can make ~6kg of Charis per year, 2kg of which he smokes himself, and the rest he'll sell to tourists.
And yet, at 55, he had better mountain-climbing strength than myself. I wonder what's his secret...
I needed 2 days after our little day-hike to recover, then I booked a 15-hour overnight bus to Dharamshala.
Related Posts