A couple of weeks ago, I found myself on an unfamiliar bicycle--winding through cars on the streets of São Paulo, Brazil. As we went over a narrow bridge, my couch surfing host shouted back at me, "watch out for the motorcycles!" They were splitting the lanes too, and a force to be avoided.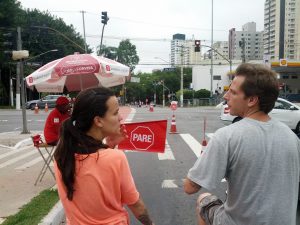 I arrived to Southern Brazil after Argentina and Uruguay. After a couple weeks in Buenos Aires, I hopped a bus up to Montevideo, Uruguay--where I spent a week. As quickly as I fell in love with the people, the culture, the herbs, and the Fainá, I was off NB again. I had 2 days to bus 2,000 km up to Rio de Janeiro. There was no bus that went the entire distance, and bus companies in Brazil require Brazilian IDs to purchase tickets online. So I bought a ticket to Pelotas and crossed my fingers. When I arrived, the bus to Rio was sold-out, but I just bought a ticket North, and--after a few transfers--I reached a station in Florianópolis with a straight-shot to Rio.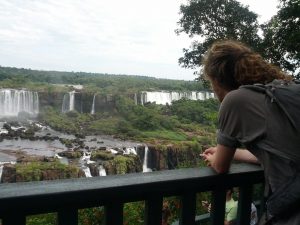 It was a bit intimidating stepping onto the street out of the bus station when I finally arrived (well, after chasing down my bus--banging on the side to let me re-board; I had forgotten my jacket in the seat pocket). Brazil, and Rio especially, is known for both violent crimes and petty theft--both on behalf of the poor and the police. This is a country with vast resources--one of the most powerful emerging economies in the world--yet there is still massive class disparity and corruption. In fact, the streets were still tagged with spraypaint condemning the political coup 5 months earlier that saw the ousting of Dilma Rousseff (from the Workers' Party).
And the poverty was obvious.
I was eager to find an apartment in Rio. Carnival was a few weeks away, and I was told that it was impossible to find lodging in Rio in the weeks around Carnival. I eventually found myself a makeshift bunk bed in the back of a holistic living office, next door to Pura Vida Espaco (vegan restaurant and SUP = stand-up paddle shop). My first weekend, I walked the 15 minutes to the trailhead of Pedra da Gávea, climbed 800 meters, and I arrived to this view: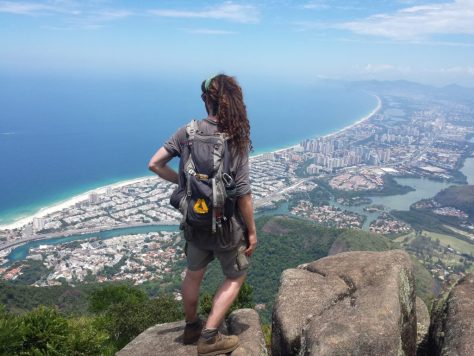 In Rio you have beautiful beaches, incredible hikes with magnificent views, the jungle, and a city full of skycrapers...and they're all next to each other. I've never been to a city like this before.
There were adventure slackliners at the top, as well as hang gliders and paragliders jumping off the nearby peak at Pedra Bonita. I never worked up the courage or the cash to pay one of these locals to jump off the mountain with me. Though I did go rock climbing in Urca, where I finally learned how to lead climb.
Pedra Bonita is one of the highest peaks of Rio (in fact, one of the highest mountains in the world that ends directly at the sea), but it is only one of hundreds of massive granite rocks that jut up in this beach city. Indeed, to me, this was the best part of Rio: The Terrain. You have beautiful beaches, incredible hikes with magnificent views, the jungle, and a city full of skycrapers and rush hour--and they're all next to each other. You don't have to drive from one to the other. In a weekend walk, you'll experience all of them the same day. I've never been to a city like this before.
After a month in Rio, I went to São Paulo. It was refreshing to see pay-what-you-want book vending machines and recycling bins in the metro after Rio. São Paulo reminds me of NYC; it's a huge city, and the people are much more progressive than the permanent beach-goers in Rio. But, when I arrived in Curitiba after São Paulo, I found myself climbing short fences to get deeper into nature after a couple weeks in the huge city.
I am currently a 6 hour drive from the miraculous Foz do Iguaçu. I'll travel there over a 3-day weekend before catching a flight to Lima, Peru--where I'll be for 1 week before I head to Cusco. And then, finally, I'll resume the journey I started years ago, before I found myself leaving Peru for a 4-month work project in India.
Related Posts